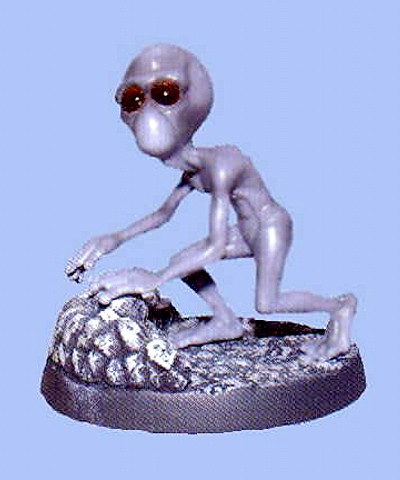 Does the above image look familiar to you? It certainly does to me. It resembles the drawings of the
Dover Demon
seen in Dover, Massachusetts, from April 1977. However, it actually is from a newspaper article published in New York City on December 3, 1893.
This drawing was discovered by Robert Schneck (the author of The President's Vampire) and shared with me, of course, because of my foundation interest in the
Dover Demon
. My appreciation to Schneck for bringing this to my attention.
The 1893 drawing is not of a sighting of any creature, however, but an artist's (perhaps humorous) imagined illustration of how humans might appear in the future, viewed from the Victorian era. Specifically, the work is tied to the fictional writings of H. G. Wells and his little-known article, "The Man of the Year Million." It is Wells who has predicted the future of humans will see a diminishing of their hair, nose, teeth, ears, and chin. The above 1893 drawing appears to be an attempt to capture Wells' thoughts in a bit of newspaper art.
It is a sad commentary that as a reflection of the man of today, near the 1893 Dover Demon-like drawing, Schneck also found an image from an ad about paid (10¢) viewings of a "wild hairy man." This was obviously an indigenous person (perhaps from Oceania) in an entertainment sideshow.