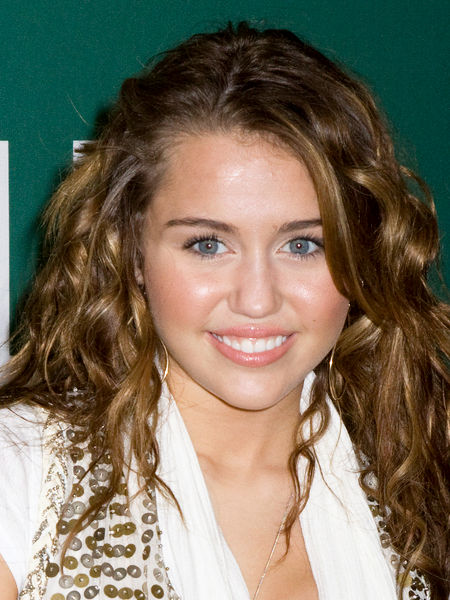 Young
Miley Cyrus
became an overnight sensation in 2006 as the star of the Disney Channel television series Hannah Montana, but fortunately her family has had some experience with that sort of thing -- her father, Billy Ray Cyrus, went from obscurity to stardom in a few short months when the song "Achy Breaky Heart" hit the charts in 1992. The success of "Achy Breaky Heart" was hardly the only memorable event for Billy Ray that year -- on November 23, 1992, he and his wife welcomed their daughter Destiny Hope Cyrus into the world. Destiny's cheerful disposition as a child earned her the nickname Smiley, which stuck when it was shortened to Miley. Miley's career as a professional actress began in 2003, when she appeared in an episode of the television series Doc, which starred her father; the same year, she landed a small role in the Tim Burton film Big Fish.
Miley developed an interest in music early on, writing songs and learning to sing while still a preteen, and in 2005 she landed a role that allowed her to put her skills in acting and music to work. Miley was cast in the title role of Hannah Montana, in which she played a teenage girl leading a double life -- by day, she's Miley Stewart, an ordinary kid dealing with school, her friends, her siblings, and all the other foibles of life for a 14-year-old, while at night she dons a wig and becomes Hannah Montana, a multi-platinum pop star whose career is guided by her dad, Robby Stewart, a successful songwriter. However, Miley's friends don't know she's also Hannah, and keeping this a secret is no simple matter. Debuting in March 2006, Hannah Montana became an immediate success with young viewers, and in October, a soundtrack CD was released, featuring Miley singing eight songs from the show along with five related tracks, including a duet between Miley and her father, Billy Ray, on "I Learned from You."
That fall, Miley hit the road, wowing audiences as the opening act for another Disney-spawned pop act, the Cheetah Girls, and in March 2007, the Hannah Montana album was reissued in a special edition featuring a bonus DVD, not long after the show's theme song, "The Best of Both Worlds," was released as a single. A second Hannah Montana album, Hannah Montana 2/Meet
Miley Cyrus
, was released in summer 2007. That fall, Cyrus embarked on the Best of Both Worlds tour, which stretched into early 2008 and was edited into The Best of Both Worlds Concert film, which was released that spring. By then Cyrus was busy recording her first full-fledged album as herself, Breakout, as well as shooting Hannah Montana: The Movie, which was slated for release in 2009. Breakout arrived in summer 2008.