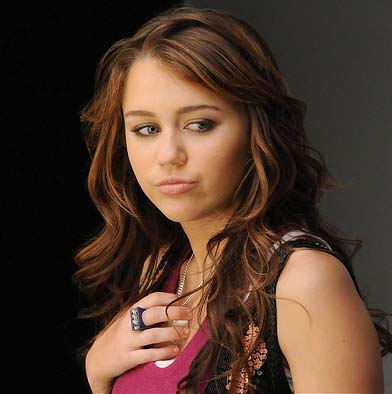 Miley Cyrus
also know as Destiny Hope "Miley" Cyrus is a talented American young actress, singer and song writer who was born in Tennessee, 1992. Miley is the daughter of Billy Ray Cyrus recently seen in the Hanna Montana Show and Dancing with the stars where he injected a bit of his own personality to his dancing routines. Miley is is the star of the Disney channel original series Hanna Montana, she plays a teenager who has a "double life" sort of speak, this shows the duality of her life and living like a rock star (Hanna Montana).
This particular show has been widely successful among its young audience which has turned Hanna Montana's concerts and tours into great events for the family. There is a similitude between the way her career developed and the way Hillary Duff's career developed as they both started working with the Disney Channel in original series, they both became singers as well and as of 2008 Miley is working on a film called "Hanna Montana: The Movie" which is expected to be released sometime during this year or during the first few months of 2009.
Miley's career as an actress, singer and song writer is very promising as reported by Forbes stating she is one of the top earners under the age of 25, at 3.5 million dollars a year she is ranked number 17.
There has been great controversy recently regarding rumors and her concerts. Around september 2007 some rumors began circulating which stated that Miley was pregnant, the source of it all was the J-14 magazine where a fake story and pictures were shown, the original article was supposed to talk about Miley's gross habits instead of a completely fabricated pregnancy story.
On a different note, this time related to her concerts, a video was shown on Youtube.com which captured what was called the "Fake Hanna Montana" during a song transition, in the video the star is seen singing for a couple of minutes and doing what she does best, then a group of teenagers get close to her and start dancing in order to disguise her disappearance and the appearance of her double. Some fans were upset because they said they felt cheated, however using a double during the last few seconds of a song allows for the main singer to change her clothes and appearance in order to be ready for the next interpretation. This is a popular practice used by many artists today, however Hanna's fans are sharper than the average fan!
Overall, Miley's career is very promising and every concert organized is a total success because of her young fans.